OUR CHEFS DIRECT THE ENTIRE CULINARY EXPERIENCE, CATERING FOR ALL OUR GUESTS' DIETARY NEEDS AND PREFERENCES. THEIR PASSION FOR CUISINE IS BASED ON THE BELIEF THAT FOOD IS MORE THAN A MEAL, IT IS AN ART THAT SHOULD BE SAVOURED IN THE BEST OF SETTINGS.
ALL MEALS ARE FRESHLY PREPARED BY OUR WORLD-CLASS TEAM, IN THE MIDDLE OF THE AFRICAN BUSH, AND SERVED IN SEVERAL LOCATIONS WITHIN THE CAMP ENVIRONS, THE BANKS OF LAKE KARIBA, AND MATUSADONA NATIONAL PARK. GUESTS ARE INVITED TO ENJOY DELICIOUS MEALS SERVED BENEATH THE STAR-SPRINKLED AFRICAN SKY AS WELL AS DECADENT DISHES GAZING OUT OVER THE LAKE.
UPON AWAKENING, GUESTS CAN ENJOY THE FINEST ARRAY OF MORNING TEA AND COFFEE FROM THE COMFORT OF THEIR SUITES. COFFEE AROMAS AND THE TANTALISING ANTICIPATION FOR THE MORNING'S GAME DRIVE ROUSES OUR VISITORS IN NO TIME AT ALL. BEFORE LEAVING FOR THEIR ACTIVITIES, OUR GUESTS CAN SIT DOWN TO A SCRUMPTIOUS FULL ENGLISH BREAKFAST OR CHOOSE BETWEEN LIGHTER MOUTHWATERING SAVOURY OPTIONS.
LUNCH IS NORMALLY SERVED UNDER THE GAZEBO OUT ON THE MAIN DECK, OVERLOOKING THE FLOOD PLAINS AND LAKE KARIBA. REQUESTS ARE ALSO FULFILLED FOR THOSE WHO WANT TO DINE OUT ON THE SHORE ITSELF, OR WITHIN THE OUTLYING BOUNDS OF THE CAMP. MEAT AND VEGETARIAN DISHES, COLOURFUL SALADS, AND FRESHLY-BAKED BREAD ARE PREPARED – ALL MADE HERE IN THE NATURAL SETTING OF THE BUSH.
A SNACK MENU IS ALWAYS AVAILABLE FOR GUESTS WHO ENJOY NIBBLES THROUGHOUT THE DAY. DINNERS ARE THREE-COURSE SENSATIONS THAT INCLUDE A VARIETY OF DELICACIES, SUCH AS TWICE-BAKED CHEESE SOUFFLÉ, GRILLED BEEF FILLET, AND MANGO PANNA COTTA WITH PINEAPPLE SALSA.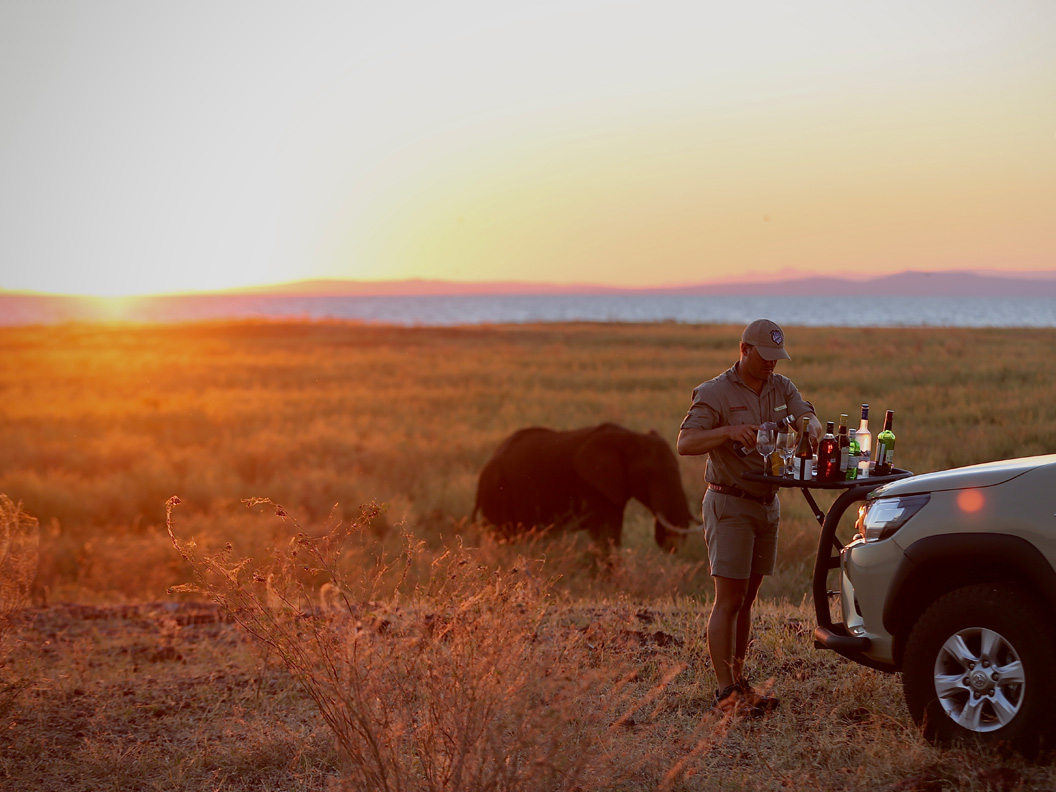 Private Dinners & Special Sundowners
After an afternoon of safari and fishing activities, we usually close the day with classic sundowner cocktails, cold brews, and canapés at a specially-selected spot or out on the boat floating in the sun's slowly fading rays. Listening out for the calls of fish eagles and the heavy splash of Tigerfish in the water, visitors are overcome by the majesty of this African paradise.
We are dedicated to our guests and are honoured to be able to cater for their special celebrations. Whether it is a private island party for a special milestone, a dinner out in nature for a big birthday event, a spur-of-the-moment wedding, or a private romantic dinner on the shore of Kariba, we efficiently arrange for these functions, ensuring guests a hassle-free and momentous occasion.