Fothergill Island is situated within Matusadona National Park. The park gets its name from the rolling Matusadona Mountains that form part of its water-rich landscape. Flanked by Lake Kariba in the north, and two perennial rivers, the Ume and the Sanyati on either side, this remote and rugged park has become the first in Zimbabwe to fall under the African Parks mandate. We are excited to be involved in this phenomenal conservation opportunity alongside both the Zimbabwe Parks and Wildlife Management Authority, and African Parks.
The Matusadona was proclaimed a non-consumptive safari area on November 7th, 1958, before being declared a Game Reserve in 1963. In 1975, it became a National Park, under the Parks and Wildlife Act of Rhodesia. Matusadona National Park covers 1,470 km2 of flat plains and rugged mountains, protecting an exceptionally diverse range of flora and fauna. Its area encompasses a vast expanse of untouched, rugged wilderness. The eco-diversity within the park serves a crucial role as a habitat for a variety of lake, river, savannah, and woodland species. Prior to the construction of the Kariba Dam and Lake Kariba, this fascinating area was relatively inaccessible.
The construction of the dam led to profound ecological changes. As a result, Matusadona National Park comprises lush landscapes and undulating hills that quickly descend and meld into abruptly flat savannah-type grassy plains. These plains are formed by the annual fluctuations of Lake Kariba's water levels.
These grasslands have led to an incredible increase in the populations of large mammals, such as African Elephant and Cape Buffalo, as well as additional plains game species. The growth of these herbivore populations has encouraged the presence of predators, which are now frequently seen patrolling the fantastic shoreline against the ethereal backdrop of the iconic drowned forest.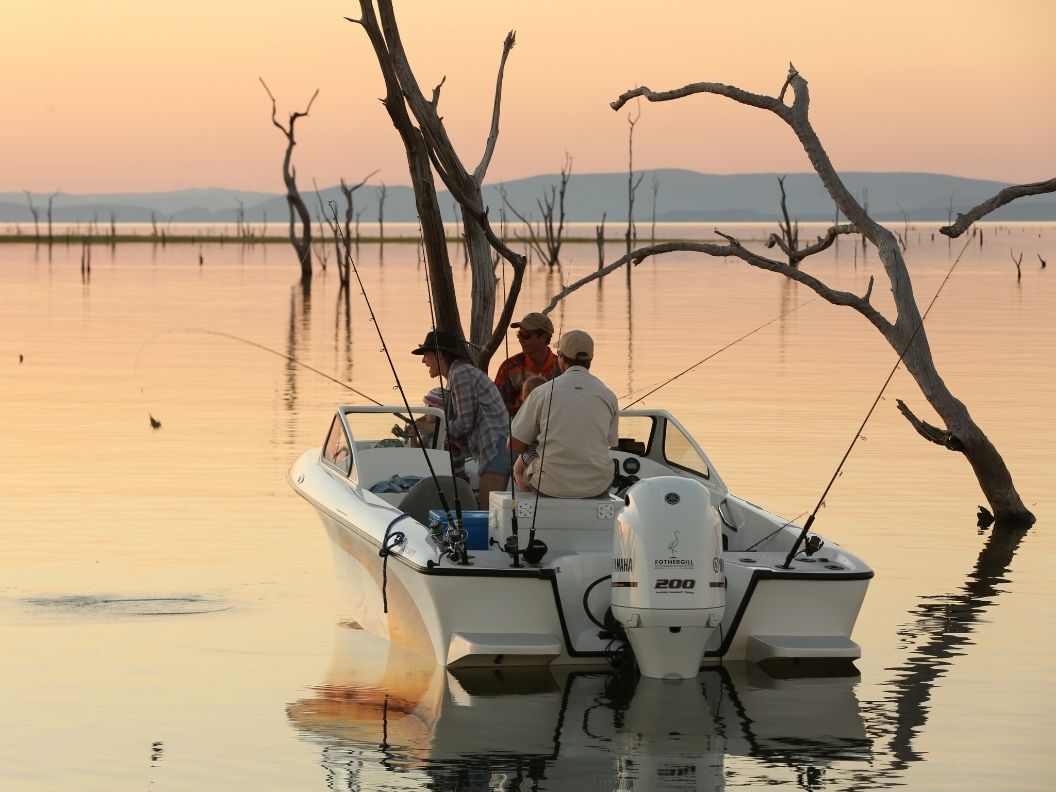 Lake Kariba, with 5,580 km2 of surface area, 2,000 km of shoreline, an approximate maximum length in excess of 270 km, a width at its widest point in excess of 40 km, and maximum depth of 97 metres is the 4th largest man-made lake in the world by surface area, the 2nd largest in Africa and the largest man-made reservoir of water in the world by volume. It is truly an impressive place to explore while offering a vast number of exciting activities for visitors.
Sought after for its world-renowned tiger fishing and luxurious houseboat cruises, Lake Kariba offers water-bourne safaris and natural scenes unique to this part of the world. Our guests are often astonished by the sights of elephants playing in a pantomime-like manner in the water and hippos grazing openly on the banks.
The construction of our runway at Fothergill Island has made a remote island vacation more easily accessible and convenient for our national and international visitors. For our travel agents, we provide a unique, all-inclusive safari island experience that they can offer their clients as part of their inventory of top destinations.