A Private Safari Island Awaits you at Fothergill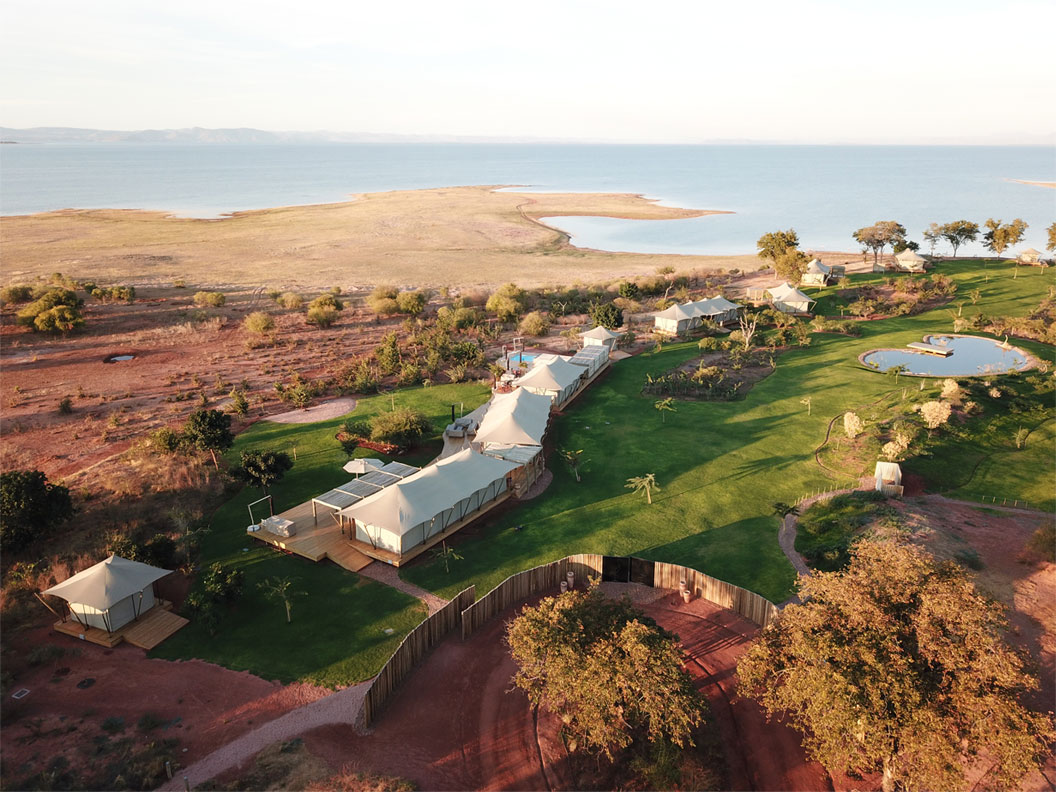 World-Class

Island Paradise
On the shores of Lake Kariba, within the Matusadona National Park in Zimbabwe, rests our magical oasis of Fothergill Island. A place where travel dreams, rich African traditions, and colourful history combine to form a safari experience like no other. An island paradise with a beautiful transformation story, reflecting Zimbabwe's own rebirth as a world-class conservation and tourism destination.
Where
Past, Present, and Future

Thrive
When we first stepped on the island, the iconic destination was sadly a desert ruin. Having changed hands over the years and endured extremely challenging and difficult times, Fothergill Island had unfortunately been left to relative neglect. The sandy ruins all but disguised the island's valiant history, one that had been rooted in the efforts of one man and his team of passionate conservationists.
Inspired by the island namesake's courageous legacy, we seek to honour the past by carrying Rupert Fothergill's torch and restoring the island and Matusadona National Park back to their former glory as one of the most prosperous wildlife sanctuaries and most diverse and abundant freshwater fisheries in the world. Our vision is to create an exceptional private safari island experience for our clients, whilst preserving the future of our spirited people and beautiful wildlife.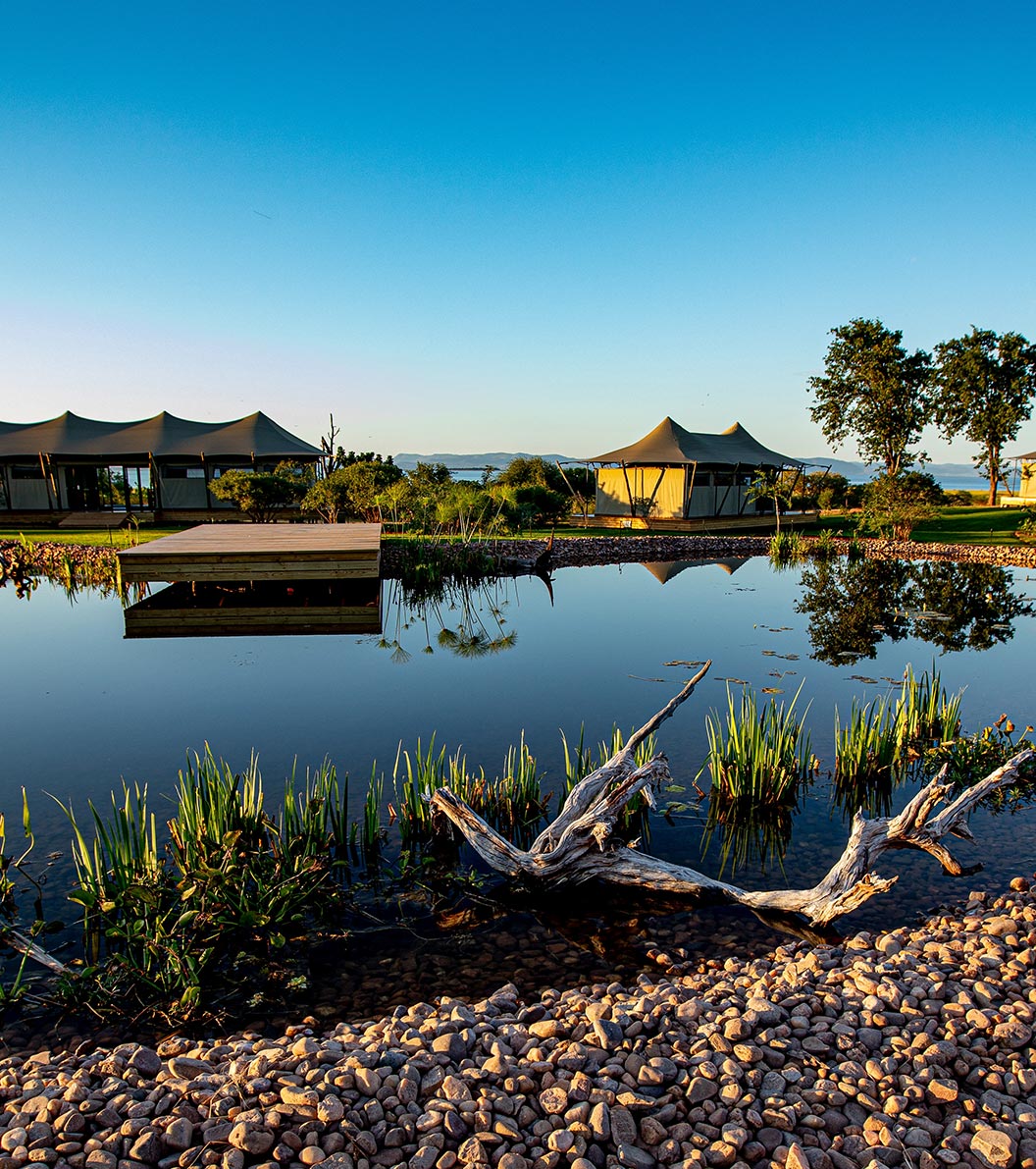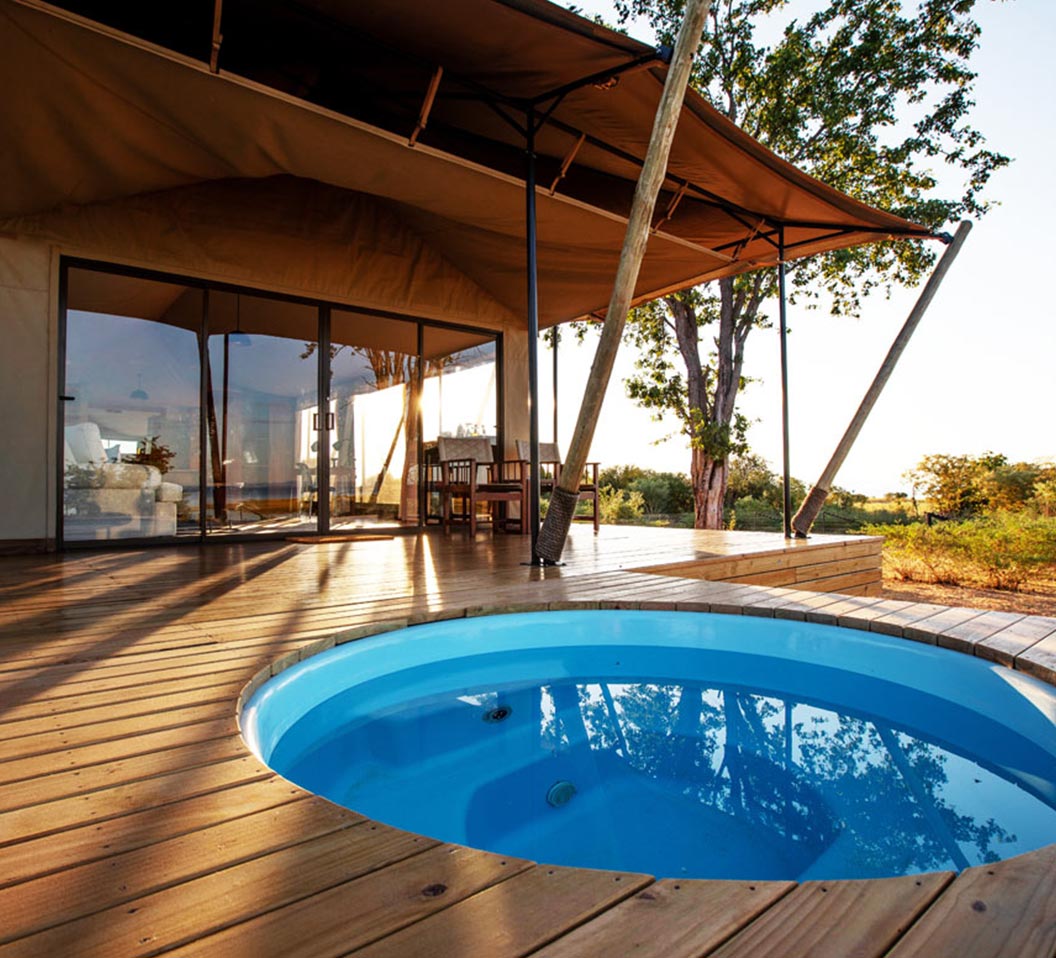 Integrated Wilderness &

Luxury Island Living
Two unique and opulent camps surround large shared seating, dining, bar, and pool areas, ideal for relaxation, restoration, and stimulating conversation. The inspired, eco-conscious camp design gives a sense of integrated wilderness, blending subtlety with striking African decor. The gentle mix of Mopane forest, lakeshores, and large floodplains form the perfect setting for a serene island vacation while the close presence of the African bush and all that it holds attracts guests with an insatiable appetite for the true wild.
Bespoke Safari Adventures
From the vibrant wildlife and flora to the diversity of engaging activities, such as nature walks, fly fishing, and child-friendly pursuits, Fothergill Island presents a special retreat where every guest experiences a tailored vacation.
Knowledgeable guides with extraordinary insights into the animals and surroundings, competitive anglers with the best advice for guests' fishing expeditions, and attentive staff for the more sedentary pool-side safari, we customise the experience for each individual and family.
RENOWNED CHEFS FACILITATE THE TANTALISING CULINARY SENSATIONS AND HOSPITALITY PROVIDED AT FOTHERGILL ISLAND. MEALS ARE PREPARED WITH THE FRESHEST INGREDIENTS, HAND-PICKED, AND SERVED TO GUESTS IN THE MIDDLE OF THE AFRICAN BUSH, WITH SOME SPECTACULAR SCENIC VARIATIONS, SUCH AS PRIVATE ROMANTIC DINNERS ON WARMLY-ILLUMINATED DECKS AND DELICIOUS APPETISERS ENJOYED ON LAKE KARIBA'S SHORES.
OUR CHEFS' PASSION FOR CUISINE IS BASED ON THE BELIEF THAT FOOD IS MORE THAN A MEAL, IT IS AN ART THAT SHOULD BE SAVOURED IN THE BEST OF SETTINGS. AND WHAT COULD BE BETTER THAN DINING IN THE THICK OF THE WILDERNESS WITH THE PROSPECT OF THE ABSOLUTE WILD A HAIR'S BREADTH AWAY?
Conservation, Community & Sustainability;
The Heart Of Our Island Paradise

Professional Service With Vibrant African Spirit
An investment in our youth directly shapes our future. Some of our exceptional team all began as apprentices, touching every aspect of the island before rising to become professional chefs, connoisseurs, skippers, safari guides and camp managers. The epitome of diligence and conscientiousness, our guests cannot help but enjoy their engaging charm, unparalleled attention to detail and in-depth understanding of the island, Lake, and picturesque surroundings.

Pristine Wilderness & Environmental Responsibility
Alongside people, Zimbabwe's diverse and special wildlife lies at the centre of our island dream. Upholding the principles of the Matusadona Conservation Trust, we position ourselves as a leading safari destination, with the focused objective of serving people and wildlife for generations to come. From sustainable fishing practices to solar-driven infrastructure, our actions ensure we walk our talk, and contribute to the conservation of our natural heritage.
Fresh Footprints In The Sand
Guests enjoy matchless delights from the luxury of pristine island suites and shade-fringed verandas. Exclusive use of the Island Suites and luxury Lake and Bush Suites means the dust settles between each and every party of guests. Each visitor experiences a pristine, untouched paradise with no evidence of those who came before, further compounding our nature as an exclusive island retreat with exquisite privacy at its very essence. "The adventure, fantastic cuisine, and professional, all-inclusive service enfolded in the thoughtful wrapping of privacy and African spirit make for a truly spellbinding experience. This magic, and our love of having an "extraordinary time", is what keeps us coming back to Fothergill. It's a gift that is so irresistible, we cannot help but share in it too."
Andy Lowe and Neil Evans
Co-owners & Fellow Island Sojourners